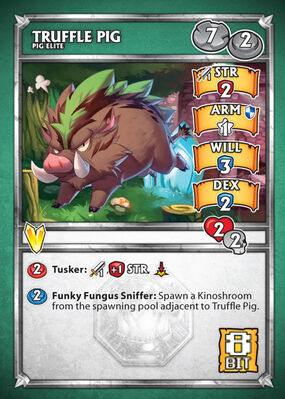 Kinoko befriend the roaming packs of pigs that populate the Fae Wood. These loyal companions help tend the truffle gardens where Kinoko grow, in exchange for a healthy serving of delicious slop. When the truffle gardens are threatened, Truffle Pigs prove to be fierce defenders of the young Kinoko, charging into danger with ear shattering squals to protect their young wards.
Stats
Type: Pig Elite
Crystal Affinity: Citrine
Abilities: None
Unique Actions: Tusker, Funky Fungus Sniffer
Movement Points: 7
Action Points: 2
Strength: 2R (Melee Attack, Range 1)
Armor: 1W (Defense)
Willpower: 3B
Dexterity: 2B
Hearts: 2
Skull Points: 2
Monster Platform: 8 Bit
Spawning Point: Fungal Growth
Gameplay
Truffle Pigs can deal out serious hits with Tusker (+1R STR Knockdown AP2), or make more of the Kinoshroom for AP2 - not the strongest spawning out there, unfortunately. Still a 3R hit is something not many Heroes can laugh at early on. Movement 7 is also quite fast for a damage dealing model.
Available Through