This is one of the Range Icons indicated on a character's card.
Melee Range is used primarily for Basic Attack Actions, but it is also depicted on a variety of Unique Actions.
Melee range is indicated by the Sword icon.
Melee Actions may ONLY use a model's STR attribute.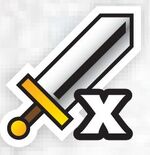 Most models possess a default Melee Range, indicated next to their STR. In the case of a unique action with a different range, it will be formatted with the new range underneath the icon.